Maize straw/stover normally consists of variable proportions of the leaves, stalks, and cobs of maize plants left in a field after harvest. It can be a valuable addition in ruminant feeding (dairy, beef, heifers, small ruminants) as it has the highest feeding value of all cereal straws. It is also a good source of fiber which can replace cereal straws if they are not available, or if additional fiber is needed or if there is a lack of forages.
It can yield between 6-13t DM/ha, but approximately only 40-60% is harvestable due to harvest technology. It is also a valuable addition for Biogas production. The Biogas yield of 1 kg DM of maize stover/straw can be up 80-90% biogas compared to 1 kg DM of conventional maize silage. Maize stover can be stored as silage or dry as straw.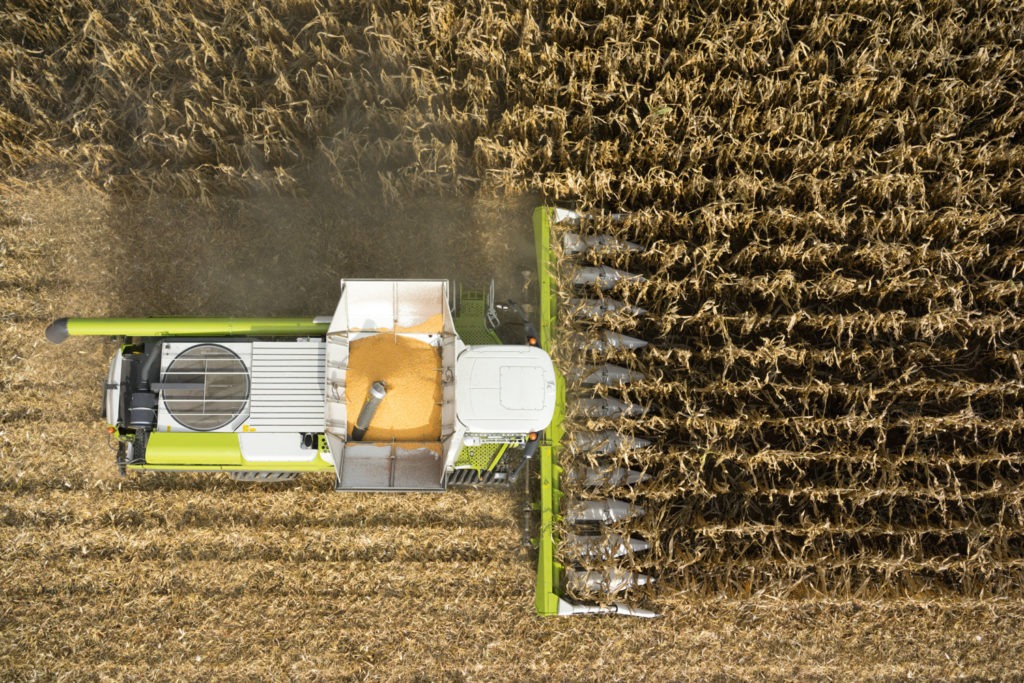 Harvest and ensiling
Maize stover/straw has a very variable dry matter, yield and chemical composition due to harvest times, harvest techniques, varieties and climate conditions, but this shouldn't make producers discount this straw as a valuable addition to their feeding programmes.
There are two ways of harvesting the crop, the first is to harvest just the stubbles with a chopper the second is to bring the maize stover to a windrow (Figure 2) with common or specialized technique and pick it up with a chopper (Figure 3) or a loading wagon.
Harvesting should be done within 24 hours after kernel harvest as feeding values and ensiling properties will change significantly due to maturation and microbial processes, e.g. sugar and protein content as well as digestibility will decrease while fiber, DM and mycotoxin levels can increase.
Harvesting and ensiling tips
Avoid soil contamination and check swathing equipment
DM highly variable: Between 25-80%
Water-soluble carbohydrates: 5-12% in DM
Bulk density of fresh chopped material is around 65 kg DM/m3
Compacted density in the silo under practical conditions will be around 100-180 kg DM/m3, but the higher the compaction, the better quality silage produced
Use an oxygen barrier cover
Due to difficult compaction, there is a high risk of reheating and molding at feed out. To reduce that risk, following good silo management procedures. The use of a silage inoculant that is proven to improve aerobic stability of opening is highly recommended.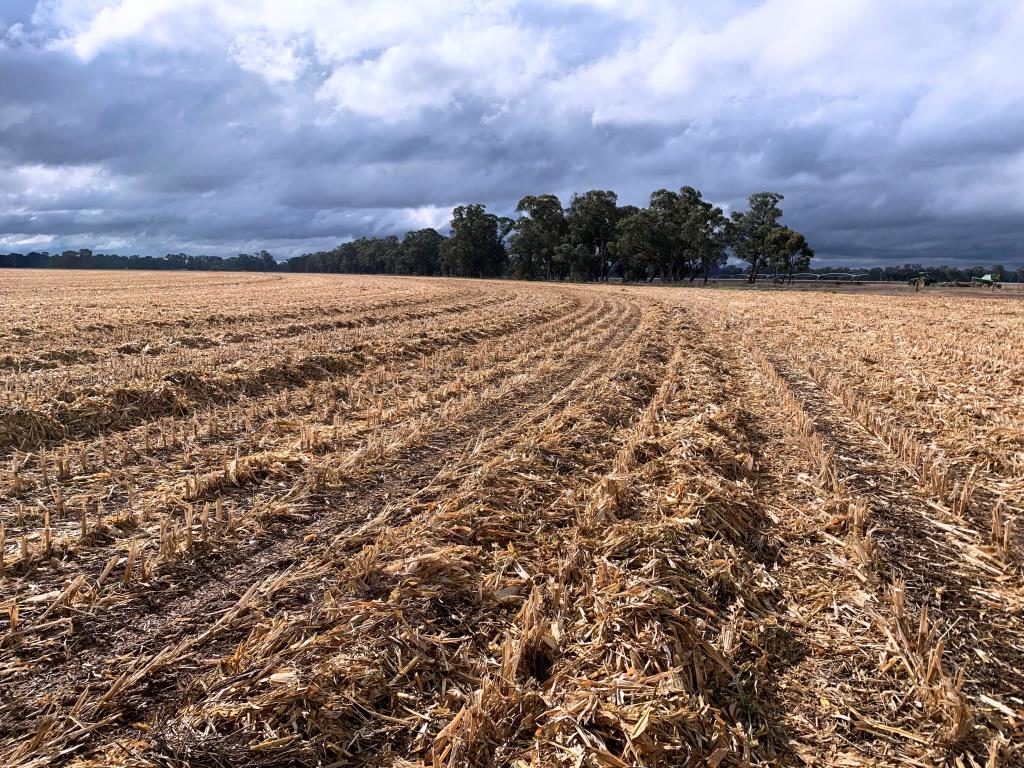 Figure 2. Maize stover/straw in a windrow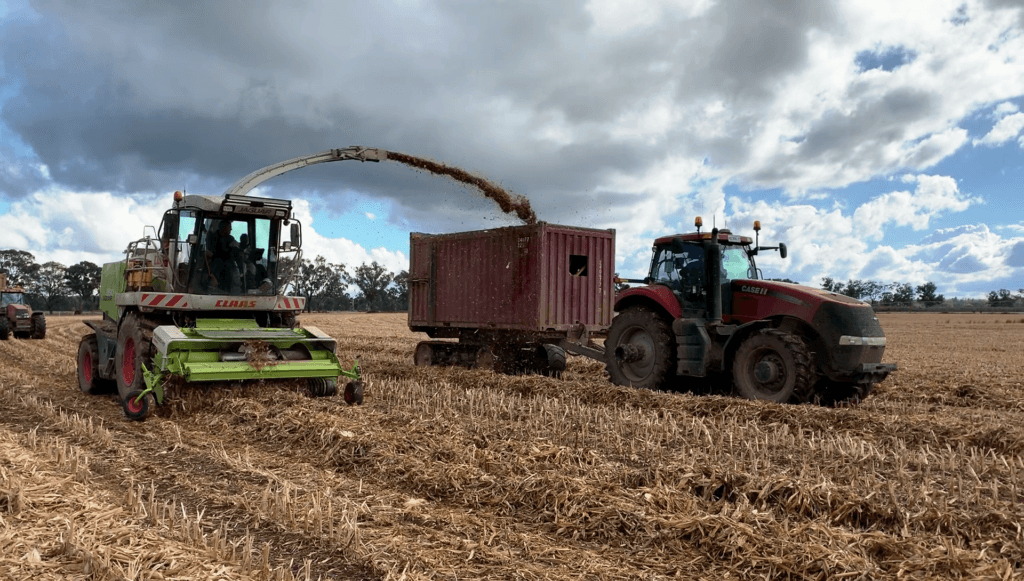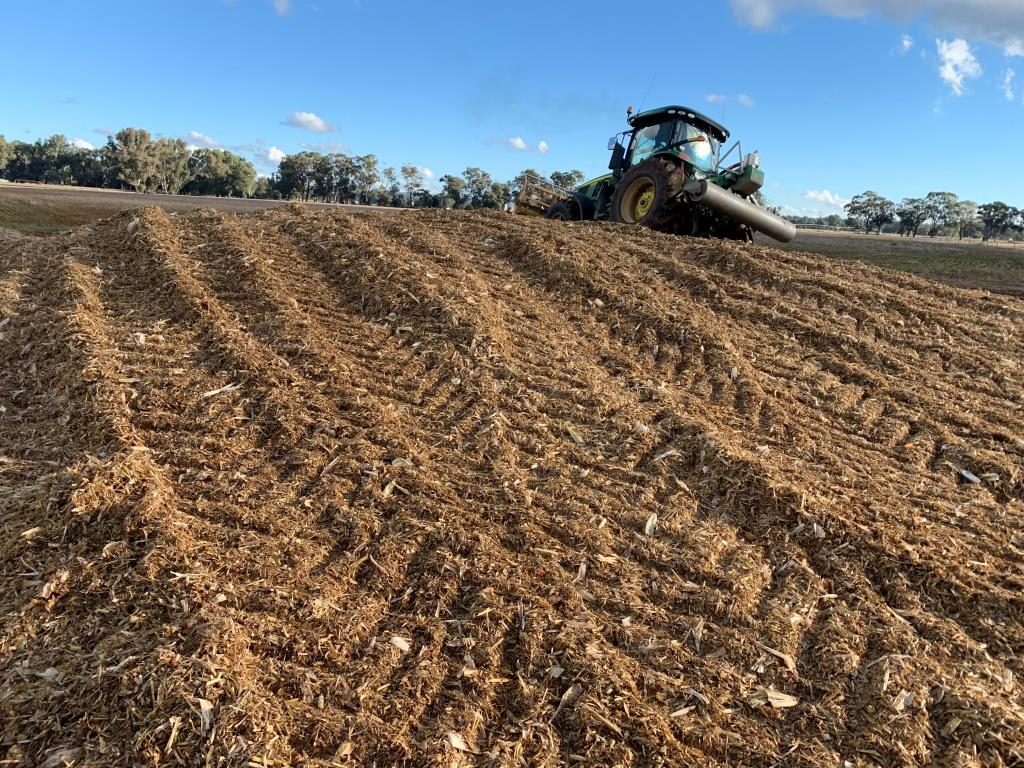 Feeding
The feed value is highly variable (Table 1) and depends on the maturity of the plant at harvest, but it should be fed like other cereal straws or grass hay.
Attention should be paid as to all crops with high sugars to the possibility of mycotoxins. It is recommended that as well as testing for feed values, the silage is tested for mycotoxins and a applicable mycotoxin binder added to the TMR to ensure no issues are encountered.

Literature and further information
Adebowale E. A., 1992, Maize residues as ruminant feed resources in Nigeria. In Branckaert R. D. S. (Ed.) Better feeding for improved production. World Animal Review, FAO http://www.fao.org/3/U8750T/u8750T0d.htm
Bostami A. B. M. R., Khan R. I., Amin M. R., Sarker N. R., Pervage S., Hasan K., 2008, Effects of addition of molasses and period of preservation on physical and nutritional properties of maize stover silage. Bang. J. Anim. Sci. 37. 42-51
Feedipedia, Maize stover. https://www.feedipedia.org/node/16072
Fleschhut M., Thurner S., Ostertag J., Eder J., 2017, Abschlussbericht zum Forschungsvorhaben Verwertung von Körnermaisstroh für die Biogasproduktion (N/14/07). Bayerische Landesanstalt für Landwirtschat (LfL) https://www.lfl.bayern.de/ipz/mais/076707/index.php?fontsize=1
Katoch R., Tripathi A. A., Sood S., 2017, Improving nutritive value of maize stover – A review. Forage Res. 43. 174-180
Prada e Silva L. F., Cassoli L. D., Roman Junior L. C., de Oliveira Rodrigues A. C., Machado P. F., 2008, In situ degradability of corn stover and elephant-grass harvested at four stages of maturity. Sci. Agric. (Piracicaba, Braz.) 65. 595-603
Tang S. X., Li F. W., Gan J., Wang M., Zhou C. S., Sun Z. H., Han X. F., Tan Z. L. 2011, Effects of sown season and maturity stage on in vitro fermentation and in sacco degradation characteristics of new variety maize stover. Asian-Aust. J. Anim. Sci. 24. 781-790
Terler G., Gruber L., Knaus W. F., 2019, Nutritive value of ensiled maize stover from nine different varieties harvested at three different stages of maturity. Grass Forage Sci. 74. 53-64
Thurner S., Burger T., Dandikas V., Schaffner S., Ganal M., Kirchmeier H., Strobl M., 2019, Körnermaisstroh. Arbeitsgemeinschaft Landtechnik und Landwirtschaftliches Bauwesen in Bayern e.V. (ALB) (Ed.) https://www.biogas-forum-bayern.de/media/files/0005/k-rnermaisstroh.pdf