Climate change has adjusted the timing and volume of rainfall patterns. de Perez says, "compared observed rainfall and temperature with food security classifications, we quantify how much the chance of food insecurity increases when rainfall is low" concerning food security modeling in East Africa, highlighting the historic influence of rainfall patterns and interaction of rainfall with temperature to influence yield and quality with which the African continent has historically struggled.
Timing, volume and frequency of rainfall have significantly changed across Europe bringing drought, but also periods of significant flooding. Little work has been done on the impact of flooding on the plant microbiota. Cui explained the microbiota of non-flooded and flooded rice culms, finding that with flooding there was a significant decrease in the abundant (most common) phylogenetic diversity with bacillus becoming significantly more dominant in the flooded crop, accounting for 52.6% of the taxonomic units.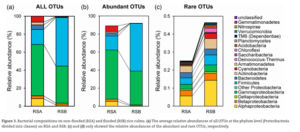 Cui organized microbial diversity of RSA and RSB (non-flooded and flooded rice culms into operational taxonomic units (OTUs) for diversity assessment. Silage was not made from this forage.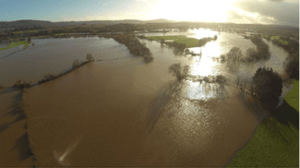 An increased level of bacillus on forage with prolonged flooding is to be expected on any forage (flooding leads to de-oxygenation of the soil and the flooded plant area promoting the level of spore-forming organisms), along with an increase in enterobacteria and yeast. Bacillus and enterobacteria fermentations are similar in efficiency and endpoints:
Both fermentations lead to significant loss of dry matter, digestibility and the formation of undesirable endpoints which negatively impact intake. And, if dry matter is sufficiently high at ensiling, the fermentations will negatively challenge the aerobic stability of silage.  Legacy effects of flooding dictate that the epiphytic profile of forage directly impacted by flood water will move away from Firmicute dominated profiles to less fermentational and stable profiles.
Land exposed to flooding significant poses challenges to producing quality silage beyond being physically able to get into fields to harvest. Farms should consider these factors to maximize potential silage quality and seek advice from specialists and consider using quality-enhancing products.