Conversion of forage to silage produces a long term stable feed that gives the farmer the flexibility to produce more from home-grown forages helping to cut the cost of production. The conversion from forage to silage is driven by a fermentation under anaerobic (without oxygen) conditions. Naturally occurring bacterial populations in the forage (epiphytes) drive the silage fermentation by utilising sugars to produce lactic acid, which lowers the pH of the silage. This preserves the forage helping to maintain the nutritional value. But if this is a natural process why the need for a silage inoculant?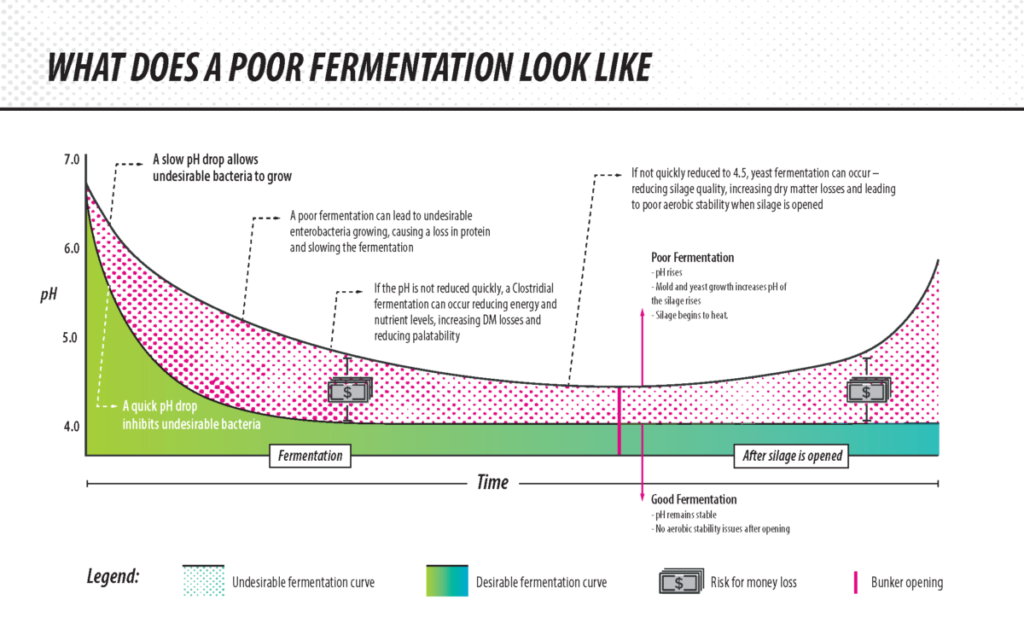 Solely relying on the natural population of epiphytes to drive the fermentation is unwise in that, they are extremely varied in specie type and they differ vastly in their ability to ferment forages efficiently. Also depending on the forage type and the dry matter, there may be the need to add specialist heterolactic bacteria such as Lactobacillus buchneri  and Lactobacillus hilgardii which improve aerobic stability in silage on opening, reducing DM losses and waste. Epiphytic homolactic bacteria are almost 100% efficient in their conversion of naturally occurring sugars to lactic acid.  But they only represent a small proportion of the natural population of organisms present at ensiling. The majority of naturally found epiphytic bacteria in forage are poor at driving the fermentation and some can even be detrimental to the process. This leads to significant losses in energy, dry matter, digestibility, protein and spoilage losses.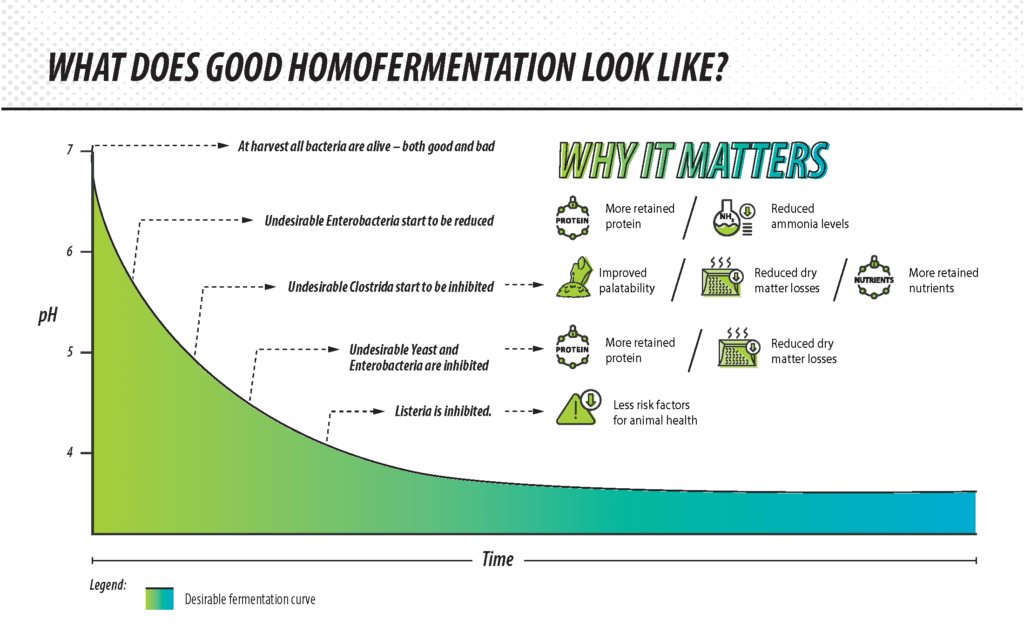 A well-researched and supported silage inoculant works by adding high numbers of specifically selected efficient strains of homolactic and if required heterofermentative strains such as Lactobacillus buchneri 40788 to the forage. These efficient strains then outcompete the natural epiphytic populations and drive the fermentation to completion as quickly as possible.
Selecting the correct forage inoculant helps drive a fast and effective fermentation which ensures as much of the feed value of the fresh forage is retained in the silage at feedout, which will help drive milk and meat production from forage as well as well as help producers take control of feed costs.